Fashionable Floor Tiles: Current Trends And Forecasts For 2023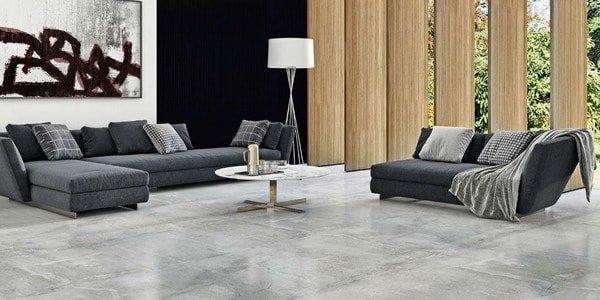 When renovating residential premises, homeowners often focus on the choice of furniture, household appliances, lamps, often forgetting the importance of a well-chosen floor covering. One of the most important factors in the actual look of your home is choosing the right flooring material and design.
Far from being boring, floor tile trends for 2023 are interesting and can give your space a stylish look.
Just like lighting, the tile you choose for your flooring can make a big difference in the look of your rooms. For example, light-colored tiles can liven up their look and make them visually more spacious.
Tiled floors are durable and a great alternative to hardwood floors. In addition, they are cheaper than natural stone and/or wood floors. By this year and next, the home decor industry has developed large woodgrain tiles, introduced unique vibrant colors and eye-catching textures, introduced exciting patterns and many new shapes. Let your living space or commercial building look up-to-date and in line with the latest design ideas and trends in the tile flooring world!
Tiles are one of the most popular and convenient flooring options for various spaces, both residential and commercial. This is because tiles tend to cost less than other types of flooring, but at the same time, they are easy to keep clean. Tiled floors also keep you cool on hot summer days. So, without further ado, here are the top flooring trends for this year and next:
Wood Effect Tiles
Tiles that look like wood remain stylish over the years without losing their charm. In addition, wood effect tiles are a great alternative to traditional hardwood floors – they are easier to clean and generally keep clean. In 2020 and in the near future, the following textures are relevant for wood effect tiles: brushed, artificially aged and hand-scraped. The first option looks quite sophisticated and elegant, while the latter is suitable for a rustic country house style. The texture of artificially aged wood with the appearance of burns, knots and scratches will create a feeling of antiquity.
Marble Tiles
Marble is a natural stone that is a more expensive flooring option, but homeowners can always opt for marble-textured tiles. Also keep in mind that black and white marbled tiles are quite popular this year and will likely stay in style for the next couple of years. Marble may be more expensive, but now there is no need to pay a high price for its chic look, because ceramic tile companies have mastered the art of reproducing marble texture so that it is difficult to distinguish from real stone. In general, marble effect ceramic tiles are more durable, less porous and, as noted, cost less. Don't forget that you can use this type of tile in all your living areas – hallways, living rooms, bathrooms, etc.
Stone Effect Tiles In The Style Of "Rustic"
In 2019, stone-look tiles in the style of a country house returned to the arsenal of interior designers, not only as wall covering, but also for flooring. If you have a large room or are renovating, consider using natural stone tiles to give your home a homely feel. Some of the best options for natural stone tiles include the following textures: limestone, slate, and marble. Will this trend continue in the coming years? The answer is definitely yes! Over the years, natural stone tiles have been a staple in countless home interior design projects.
Metal Effect Tiles
One of the newest trends in 2020, which will be in demand next year, is metal-look tile floors. Such tiles are gaining more and more popularity, because. it gives the room an ultra-modern and trendy look. Metal effect tiles are a relative newcomer to the market, but they have already generated some serious interest. If you want to try something bold and new for your home flooring, opt for metallic effect tiles instead of more classic options.
Tile Under Fabric
Have you ever thought that floor tiles can look like linen or silk? Meanwhile, in 2020, this tile finish option is now available. Many tile companies have created unique and stylish textile-textured tiles that are easy to maintain. This type of tile will give your floor a very soft appearance, while tiles with a texture such as silk fabric will give your room a rich and luxurious feel. If you want to stand out and try a new style in your home renovation, consider fabric texture tiles for a trendy contemporary bedroom floor.
Geometric Patterns
Today, ceramic tiles for creating geometric motifs, especially hexagonal tiles, are gaining more and more popularity. In general, tiles in contrasting colors to reproduce the geometric pattern work very well for floor designs. For an even more attractive look when using hexagonal or other geometric tiles, try adding additional color tones.
Concrete Effect Tiles
This year, the most exotic trend to date is concrete-look ceramic tiles. Large-format concrete-effect tiles are increasingly being used to create a modern style in interior design. These tiles will give your living space a contemporary industrial feel, especially when paired with the right furniture and lighting. In addition to being ultra-modern and fashionable, it will look stylish at any time and it looks like this trend will continue for a long time.
Gray Tiles
Currently, gray is one of the most popular colors for flooring in a modern home. Although most gray tiles are made from stone, there is a wide range of ceramic tiles in this color. One of the latest trends in modern interior design is the combination of gray floors with gray cabinets and doors to create a unified monochrome color scheme. In addition to looking great, gray will also create a calm and relaxing atmosphere in your home. Also, gray tile floors are versatile, as this color is combined with many other shades. When buying home appliances, consider choosing bright items, and gray will harmoniously neutralize (mute) these bright color spots.
As new types of tiles enter the market, so will the flooring trends that interior designers, builders and homeowners alike will follow. If you have any further questions regarding current or future tile flooring trends, or if you need help creating your own project, feel free to contact our tile experts:
We have a team of very experienced salespeople and designers, which will help you choose a backsplash tile that fits well with your existing interior or choose a tile according to a finished design project if you are going to completely update the look of the kitchen.