Modern Farmhouse Style Trends 2023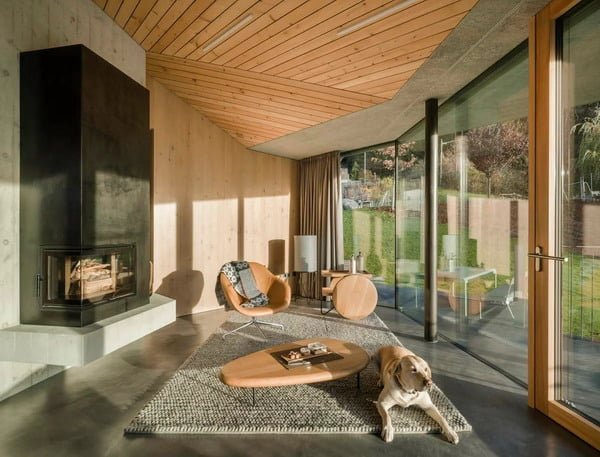 With the growing trend towards urbanization, cottage interiors are gaining more and more importance in design. In the 60s of the last century, when the first call "back to nature" sounded from the trendsetters, decorators again turned their attention to the decoration of country houses, stunningly harmonious in their traditional charm. So little by little, a separate style was formed, called the farmhouse. Moreover, the designers were able to clearly define its characteristic features:
open, welcoming and friendly spaces;
a minimum of blank partitions for zoning;
the maximum possible volumes of light and air;
dominance of natural materials and textures;
many decorative elements reflecting the individuality of the owner.
As the farmhouse became more and more solid on the list of interior styles, cottage owners focused more and more on interior design for their home. Today, the style of rural houses has become a full-fledged direction in design and received all the rights to regular upgrade. That is why we present to your attention the most relevant trends that will allow you to create a cozy and not devoid of impeccable taste atmosphere in your corner of paradise.
Top 5 Trends for Home in the Countryside for 2023
We have no doubt that you can at least approximately describe how you see a house in a village. And if your ideas feature simple lines, linen and cotton, white and beige, floral prints and many charming trinkets, then you are on the right track. However, today, when city dwellers are increasingly striving for the peace and serenity of small villages, designers are trying to bring a little more grace and clear forms to some of the laziness and relaxation of the cottage decoration. However, first things first: let's talk about the five most promising trends in the interior of a rural house.
The tree in all its forms
A cottage is primarily a tree. It is extremely difficult to argue with this statement, since this natural material has a huge number of advantages. High environmental friendliness, pleasant texture, relaxing and soothing shades, subtle and incomparable aroma – you can endlessly talk about the advantages of living in a wooden house far from the city.
At the same time, the designers propose to consider the natural massif not only as a building material, but also as a decorative material. When decorating a cottage, pay attention to the wooden elements, which in 2023 will certainly be in the spotlight:
Wooden ceiling beams. This solution provides the interior with volume and texture, and at the same time does not overload it at all. You can choose elements made of unpainted, deliberately roughly planed wood, or choose contrasting beams painted with dark paint – the effect will please you anyway.
Finishing with grooved boards. Smooth and close-fitting wooden elements perfectly emphasize the serene romance inherent in authentic rural interiors.
Wooden furniture – perhaps handmade. If you've been feeling the urge to work with wood for a long time, it's time to give it a try. And don't be afraid that it will turn out imperfect: slight negligence has become synonymous with charming authenticity. If there is no desire to pick up a tool, you should look for tables with a rough base of logs, wooden benches and stools, and sideboards and dressers of the same plan. Although, a pallet bed and a block of wood instead of a coffee table are still quite an easy task for DIY.
Wood decor is something that cannot be too much. You can take a closer look at wood frames, bowls and candlesticks, or even opt for something cute and abstract – wood texture will provide the aesthetic you want.
From charming simplicity to sophisticated charm
A modern country house today does not at all imply excessive laconicism and lack of harmony. Moreover, in 2023, designers are proposing to set a course for more graceful and elegant solutions in order to combine a calm, eco-friendly environment with contemporary sophistication. It is proposed to achieve the desired balance using the following solutions:
smooth walls painted in light monochrome;
the use of smooth and shiny textures such as metal and glass;
elegant, graceful shapes such as rattan furniture and minimalist lamps;
trendy floor decor, which has become an indispensable attribute of modern trendy apartments.
Combination of modern and rustic styles
It may seem that in this case we are talking about the same ideas and solutions as in the description of the previous trend, but this is not entirely true. Speaking about the current mix of modern trends and rather stable traditions of decorating village houses, we do not mean the introduction of new interior elements – but the interpretation of the old ones. When updating your cottage décor, try the following techniques:
perfectly smooth floors instead of ordinary board floors;
replacing textiles with a floral print with a plain one with lace and embroidery in color;
renovation of furniture with the effect of aging, giving it a flawless, new look;
actual paintings and posters on the walls;
fireplaces of modern design instead of brick in retro style.
Botany, botany and… botany again
In the interior of a country house, you can hardly do without plants. Prints on curtains and posters on the walls, of course, will not be enough – and why limit yourself? Let as much of life as possible into your home!
Climbing and flowering indoor plants, culinary greens in charming pots, freshly cut garden roses and hydrangeas – this is not a complete list of friends of your interior from the world of botany. Compositions of dried plants and flowers today are experiencing another wave of popularity. However, avoid complicated and exotic options: foraged cotton and a couple of bouquets of lavender or heather will be enough.
Games with textures
Traditionally, it is believed that a rustic interior presupposes exceptionally calm, soft and matte surfaces. Of course, the magic of unpolished planks, linen, cotton and stone is irresistible, but why not take a fresh look at decorating your cottage?
In this regard, 2023 promises to be a time of surprises and changes. So, American designers have already suggested polishing and varnishing… wooden ceilings! Thus, it is possible to achieve improved light transmission in space, visually increase the volume of the room and provide more efficient heat storage.
Color Trends for Country Home 2023
We have already mentioned Behr as a trendsetter for the interior palette. Do not think that they have bypassed country cottages: especially for them, the brand's colorists have developed a whole line of colours. If painting the outside of the house was part of your plans in 2023, you should pay attention to the five shades that have already been recognized as the most relevant in the coming season.
Cool gray-green (Wishful Green). A surprisingly light and fresh shade with a calm mood that will add a mysterious charm to your home.
Country gray (Barnwood Gray). A simple and calm version of gray without unnecessary pressure and excessive gloom will provide a serene and balanced image of the house.
Matt golden (Cellini Gold). Bright and warming, but at the same time completely non-cutting shade. Creates the impression that your home is bathed in sunlight.
Smoky White. A soft and peaceful tone will give your home a truly welcoming look
Midday sky (Dayflower). A rich, but not excessive, dark blue will favorably emphasize the harmony of lines and proportions of the residential building.
Maple Glaze. A very pleasant, one might say, appetizing light brown tone will add discreet elegance.
Jojoba (Jojoba). A cool gray color with persistent greenish notes will make it easy to fit your cottage into the surrounding landscape.
Almond Wisp. A delightful and warm beige shade visually smoothes imbalances and creates a mesmerizing contrast with the surrounding greenery.
Blue midnight (Nocturne Blue). A deep and mysterious color is a godsend for a fashionable study of architectural elements of a house.
Great news: all of these colours combine wonderfully with each other, and therefore you can safely use them to paint doors, window frames, terraces, columns and porches, creating individual and harmonious combinations.
Country House Kitchen Trends 2023
In a cottage far from the city, the life of the owners, willy-nilly, centers around the kitchen. And the point here is not at all a passion for cooking: in unity with nature, a natural craving for the hearth awakens, and if you also have your own garden or vegetable garden, then you will be happy to spend most of your time here, processing vegetables, fruits, berries and herbs…
That is why they try to make the kitchen as spacious as possible and often combine it with the living room, opening up maximum opportunities for communicating with friends and family and practicing your favorite hobbies. The more pleasant it promises to be updated in 2023, since designers offer very interesting options:
Wooden total look. The kitchen, in which everything is made of wood, looks incredibly cozy and fabulous in its own way.
Marine style. Dark blue cabinets, brass handles, white countertops and cast iron lamps – the spirit of adventure is with you, even if the sea is not one thousand miles away.
Full open space. There are never too many open cabinets and shelves in the kitchen in a cottage – just remember to arrange accessories and dishes beautifully in them.
A bit of minimalism. Deaf facades, laconic white color, symmetrical kitchen island are a godsend for those who value perfect order.
Valuable retro. If you have vintage chairs or lamps in your attic, it's time to put them into action. If not, it's okay: you will definitely find something similar in stores.
Farmhouse Style 2023: Conclusions
According to the designers, farmhouse style trends 2023 is still distinctive, hospitable and charming in the simplicity of its interior lines and facades. However, new trends will help add a little more gloss and fashionable elegance to it – to create a living space that is equally comfortable for fans of village life and for adherents of the bustle of the city.